Problem Analysis, Reflection, and hands-on Solutions for challenging Situations when you lead your Horse in the Barn or on Adventure Walks. A two-week online Course for sensitive People & Horses.
With People & Horses we don't condition our horses 'unwanted' behaviors away, we strive to find the true psychological or energetic causes behind our horse's reactions, and address the reasons behind them. We find holistic and peaceful strategies to handle daily challenges, and if necessary we find ways to heal our horse's past or to heal our own themes and experiences.
With this course, you get all the right questions to ask and all the tools you need to analyze and reflect on the situation, so that you can create your own personal and unique way. It also provides hands-on solutions to deal with those daily challenges.
We start by asking questions like *why* does my horse e.g. stop or pass? Does it maybe have to do with my horse's past experiences? Or could it maybe be that my horse mirrors something that's going on for me, in my life, am I maybe struggling with anxiety, overthinking, low self-esteem or depression and my horse carries these emotions for me? Or is it trying to protect itself from them? Or does my horse's behaviors have something to do with our relationship, am I maybe living an unhealthy relationship style, that I developed as a survival strategy during my childhood or in a controlling relationship with my partner?
And then we find hands-on, practical and most of all peaceful ways of dealing with those daily challenges. And this is where this course can accompany you step by step. It can help you to find peaceful answers to your horse's questions and strategies and will allow you to handle challenging situations with more ease. In the videos, I share tips, and ideas and also demonstrate practical answers to strategies our horses use. We will talk in-depth about stopping, pushing, passing, turns, challenging situations connected to pulling to and not wanting to leave the grass, and how to handle scary situations.
Adventure Walk focuses specifically on peaceful solutions you can offer your horse to strategies it may use when you have it on the lead rope, like stopping, pushing into you, pulling you to the grass, and more, so that your walks together, around the barn or outside, will soon a pleasure for both of you. This course is helpful, if you're just looking for a few tips for a more pleasant walk or if leading your horse around in the barn is already a challenge so that walks in unfamiliar terrain seem completely impossible right now.
This is *not* a Positive Reinforcement or Natural Horsemanship course, this course empowers you to self-analyze and reflect on where you and your horse are at and provides you with peaceful strategies and solutions to daily challenges when you lead your horse. You might, however, discover that your and your horse's problems have a deeper meaning and if you then choose to transform the relationship with your horse on a deeper level, then the program Towards Freedom is the perfect one for both of you. 
You are the Expert for your Horse and your Relationship. What this Course can do, however, is to give you Ideas, Perspectives, and Tools to bring you a big Step forward in Dealing with the daily Challenges with your Horse.
Hi, I'm Britta, Empowerment Coach, Registered Counselor, Lawyer, Mediator, Certified Equine Facilitated Wellness Professional, and Human & Equine Reiki practitioner. In the video, I talk about my very own story and why I'm so passionate about building a relationship with our horses based on freedom, self-love, and understanding.
Start by downloading your free Dream Journey Two Hearts below and get a bit of a taste of what makes People & Horses' approach different and if this could be something for you and your horse.
What you'll get inside 'Adventure Walk' are strategies for relaxed handling, harmonious walks, and ideas on how you can make your horse's soul shine again. We'll talk about different causes of behavioral problems and gentle, yet effective ways of dealing with them. We talk about natural communication with your horse, and also about what might still stand in the way of a deep connection with your horse or what your horse is missing for it to truly enjoy your togetherness.
'Adventure Walk' is a two-week course and consists of ten videos of over 2 hours of playtime. You can watch the videos at your own pace, they will be accessible to you for one year. Through the ideas, inspirations, suggestions, and practical tips you will soon have enough clarity to go into implementation full of confidence. If however, you prefer to have a 1 : 1 session then a video analysis might be something for you. Just click on the link below to lean more about it.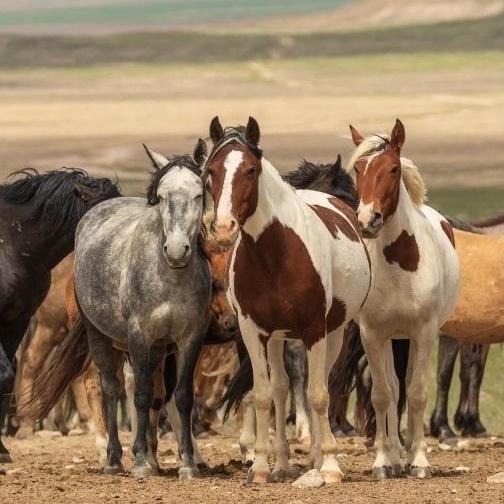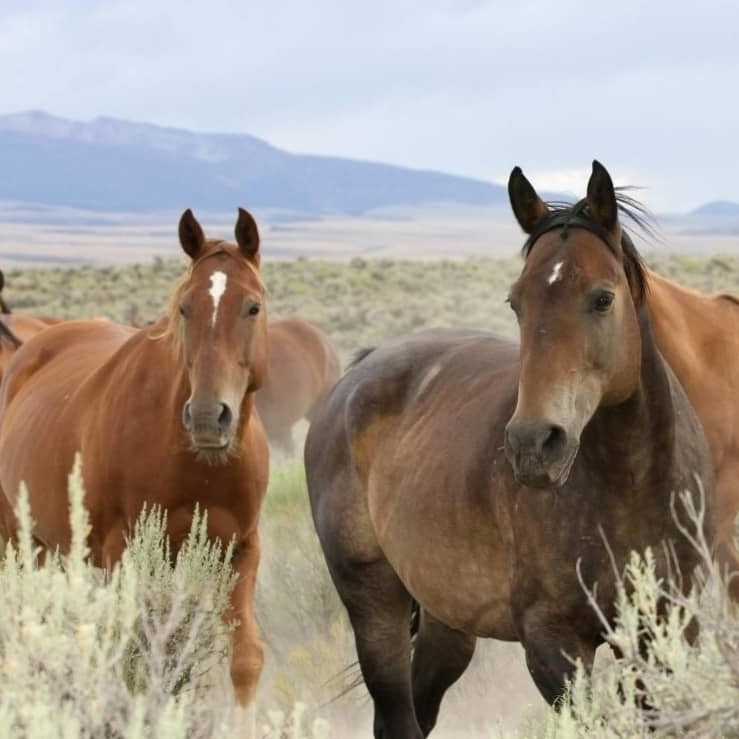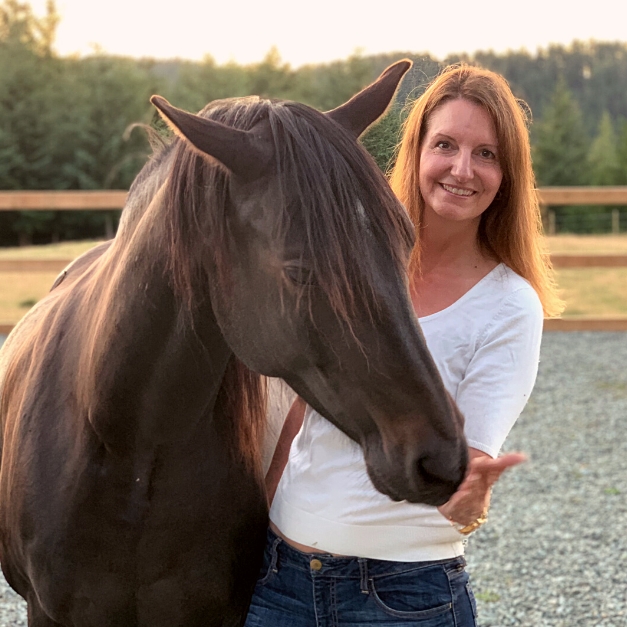 ➔   If you're just looking for a quick fix, no matter the methods.
➔   If you want an obedient horse that functions at all times.
➔   If you're not interested in exploring the relationship with your horse in new ways, or you're not open to learning more about yourself, your themes or patterns, or what you might need to change so that your relationship can develop positively.
Everything that happens when we have our horse on the lead rope is a reflection of our relationship. And that's why it's so important to pay attention to our everyday interaction, when our horse is free, to our communication but also to our own thoughts, energy, and how we treat ourselves and our horse. How do you live? How does your horse live? How do you interact when you are free together? Are there already problems, miscommunication, and difficulties? If we take a look there as well, we often already recognize possible causes for our challenges, and new, peaceful solutions and possibilities often open up by themselves. Questions? Message me.
Imagine the Connection with your Horse is so pure and your Communication so easy that when you're together you can answer all of your Horse's Questions and offer peaceful Solutions to Strategies it may use effortlessly so that your Walks together are a Pleasure for both of you.
If you're not sure, if this course is right for you, or if you have any other questions, please don't hesitate to send me a message below. I'll get back to you usually within 24h.