Peaceful Togetherness is about independence and belonging, freedom and adventures, about being in the present moment. That we don't have to change who we are or accomplish something to be enough. We and our horse. That we meet at eye level and communicate in gentle but clear ways through intention, body language, touch, and our voice. It is about trust, positive feedback and also about respecting boundaries, ours and our horse's. About healing trauma. And creating a wonderful and deep connection.
Hi, I'm Britta, mediator, counsellor and coach for peaceful communication between people & horses (and people & people). Let me invite you to start your unique journey and to discover your horse, yourself, and your relationship completely new. To create your own, authentic way of Peaceful Togetherness with your horse, without dominance and control, only based on trust, understanding and ease. It would be a pleasure to accompany you and your horse on this adventure, be it with my podcast, sessions, or courses.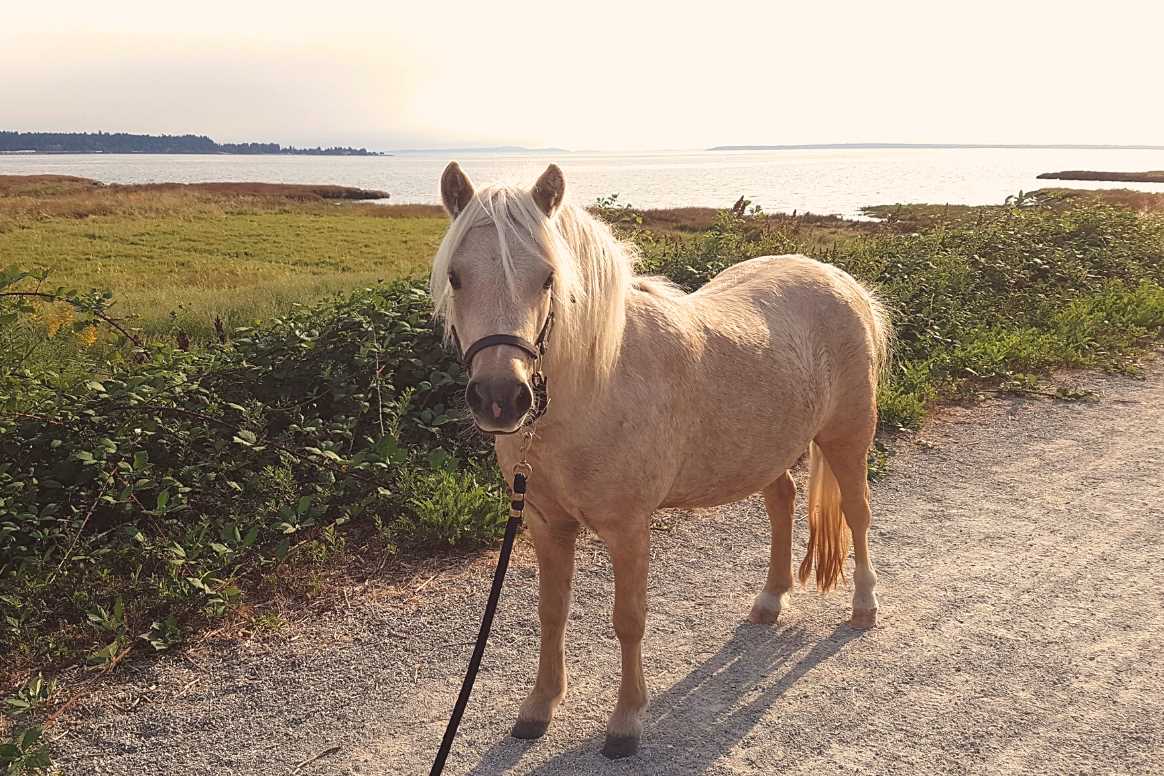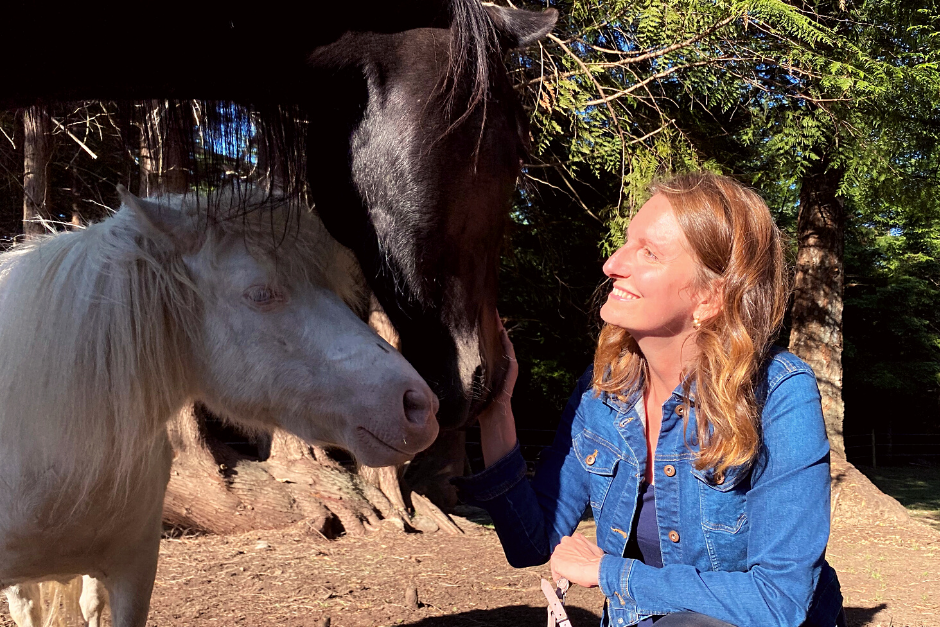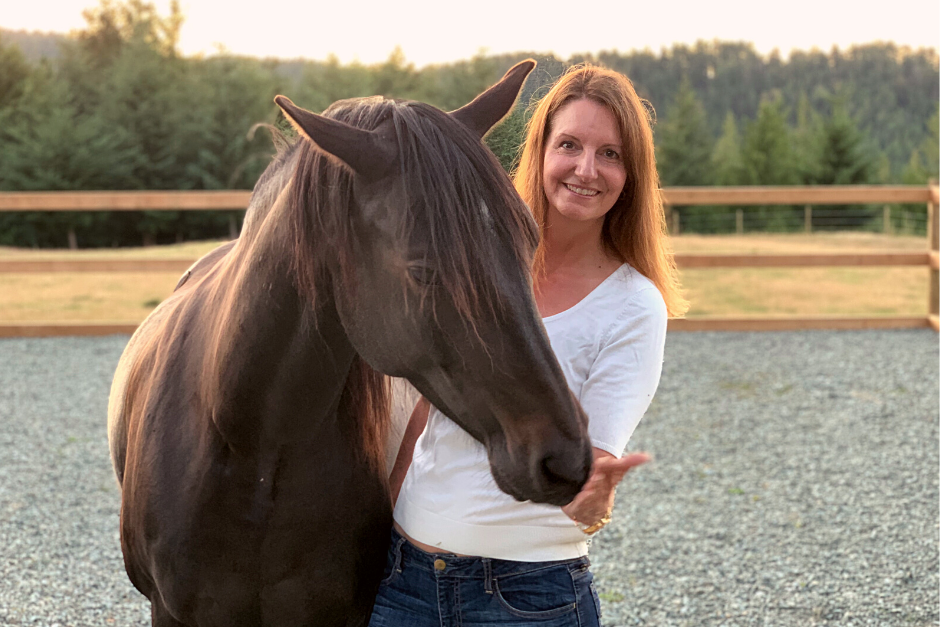 Sometimes it's just a glimpse of the feeling 'my horse is not happy' or something doesn't feel right in the way we are together and we notice sorrow lines above the eyes. And sometimes our horse's behaviour can be a real challenge, it might be hard to catch, refuses to follow, pushes into us, pulls us to the grass, seems very anxious or even aggressive and bites, kicks or tries to run us over. It can also be that our horse is very slow with everything and seems lazy or bored or is unbalanced, stumbles often, and has sometimes even accidents in the field.
To solve our problem we often try out different training methods, but nothing seems to work in the long term. And when we're together with the horse we always fear that something could happen and constantly scan our surroundings to anticipate what it might be and are not in the here and now and present. And when something happens, we get anxious, mad, or sad. Our horse now senses our thoughts and feelings and reacts in turn. When we now try to correct and control the behaviour even more, the situation can spiral out of control.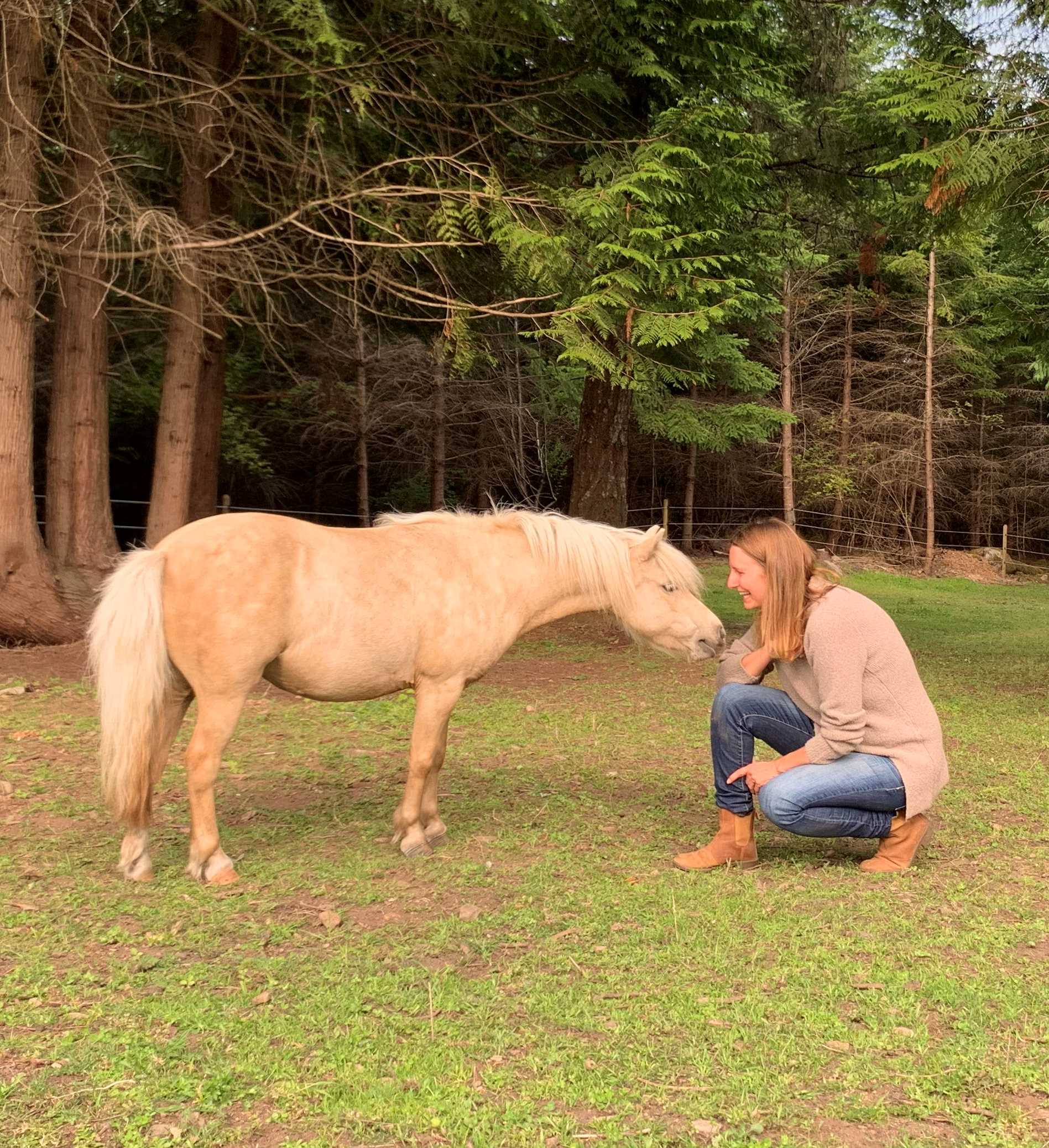 When being with our horses doesn't feel good anymore, for whatever reason, then there might be the time to look beyond training. Let me invite you to leave all preconceived ideas and expectations about horse training behind and to open your heart and mind for your horse. Discover your horse, yourself, and your relationship completely new.
For a while, pause your training and just spend time with your horse. With that you will create a safe haven, that will allow your horse to open up and let you know how it feels. If strong emotions come up from past experiences you can help your horse to release its trauma, anxiety, anger, and helplessness and to support its healing process.
The next step is to strengthen your relationship even more. You'll learn about the three levels of communication horses use, which are energy, body, and touch. This will help you to gain clarity on how to best communicate with your horse at eye level, to respond to its needs or strategies, like pushing and pulling and to set boundaries in a peaceful way. You will find new ways of being together, that are fun and exciting for both of you. You will also understand your horse's emotions and reactions better and better and be able to predict earlier when it doesn't feel safe or understood. That will allow you to manage new or challenging situations before your horse has to show a 'big' reaction.
A MESSAGE FROM YOUR HORSE
If there's something going on for us in our everyday lives, like constant stress or worries about daily life events, maybe we also find ourselves a lot of time distracting ourselves by watching news or spending time on social media. At the same time we feel like we're always in a rush and don't have time to take a break and our life feels like on autopilot…
Or if we have problematic relationships with our partner, children, parents, or coworkers, maybe we have difficulties to say 'no' to others, and always put their needs ahead of our own. If we feel we don't really fit in somewhere e.g. because we're highly sensitive, from a different culture, eating a different diet (e.g. vegan), or have unique beliefs and values. If we feel no one understands us, or even attacks us for our ideas, world view, or the causes we campion…
Then there is a high possibility that our horse has picked up on this. That it notices we are not really there but lost in our thoughts. That we have fears, self doubts, or unhealthy relationship patterns. That we're frustrated or feel stuck. Even if we're not consciously aware of it. And our horse will reflect these themes and feelings back to us.
Although it might not feel like it now, this a wonderful message and a reason to be grateful for our special and sensitive horse to highlight these areas. It is an invitation to start our own healing process together with our horse.
ALLOW YOUR HORSE TO GUIDE YOU
With 'Naturally Becoming You' we dive even deeper into your relationship with your horse and find the subtle (or not so subtle) messages your horse has for you about your own life themes. How? Horses are master of perception. In seconds, they recognize who we are and what's going on with us. With other people we often wear masks, but this is just not possible with horses. Their survival depends on correctly assessing our intention and energy. The way, horses mirror us is by either showing a similar behaviour or theme or exactly the opposite of what we're struggling with ourselves in our daily lives, and with that they 'push our buttons'.
Life themes and inner attitudes that horses clearly mirror are e.g. insecurity, dissociation, frustration, impatience, anxiety, shame, constant worries, stress, depression, control issues or chronic caretaking. Horses will also react to our physical state, e.g. when we're tense or stiff. The longer our horse belongs to us, the clearer the messages will be.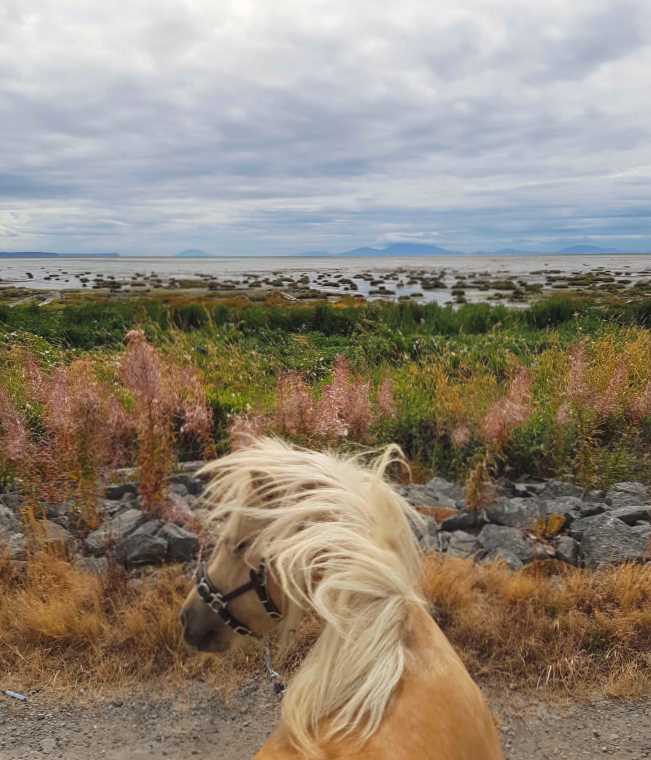 Start your journey together. Understand your horse. Allow yourself to be as you are. Meet your horse at eye level. 
When we now correct that behaviour, our emotions are only displaced, and they will come out in another way, maybe in our other relationships or even physically. But if we change our perception of challenging situations in our life and learn how to release past conditions of anxiety or anger, we can move forward with new confidence.
The first step is recognizing our believes, themes and emotions in the horse's behaviour and taking ownership of our part.
The second step is to bring peace to our current or past experiences by releasing our emotions peacefully. This in turn will change the emotions and reactions of our horse. And they will always let us know where we are at in the moment, if there is still some more work to do or if they notice real change. If you're not sure, if your horse's behaviour has something to do with you, or which theme it mirrors, you can book a video analysis where we can find out together.
When I started riding at about ten, I would've never imagined that one day I would be on the path I'm on today, as my journey with horses was already over after a few years. Although I loved being around horses and taking care of them, I found that there was just too much force and even abuse involved that for me the joy being around horses couldn't make up for the helplessness I felt. Much later, when I found my way back to horses, the only thing I knew was that training methods based on coercion and obedience were no longer an option for me.
However, no matter which approach I tried, the focus was always on preparing the horse for its life as a good riding horse, while psychological needs were not or only marginally taken into account. But finally I found my own authentic way of being with horses. This new, psychological approach, free from coercion, and pressure to perform, was the path I've always looked for. Since then I offer my horses a safe haven where they are allowed to be as they are. I have learned a lot about myself and also about my relationships with people. Today my horses show me every day when I stagnate and unconsciously fall into old patterns, but also when I'm able to develop new aspects of my personality.
When I now think about what defines me aside from the horse world, I'd say, that it would be three things: high sensitivity, that I believe animals are equal and the desire to always try something new. That combination caused some 'interesting' turns in my life: I became an author, a farmer, lawyer, mother, traveller, vegan, counsellor, German teacher, and now a new alpaca owner. I've worked in animal shelters and sanctuaries, moved 21 x including to another continent, and also work on TV shows and movies as German dialect coach.
Certificates & Diplomas: Registered Counsellor with ACCT, Canada. B.Sc. Psychology, University of Hagen, Germany. LLM eq, University of Frankfurt, Germany. 2-year Mediation & Conflict Resolution advanced training program, Justice Institute, BC, Canada. Certified Equine Facilitated Wellness Professional with Pro-EFW, Canada. ASD Certificate, Popard, BC, Canada.
Experience: Self-employed since 2008 as Counsellor, Mediator & Coach. German Dialect Coach for international film and TV projects since 2014. Junior Lawyer (Justice Institute, Germany & London, UK). Human Resources Consultant (Telekom, Germany). Project Manager (IIR International, Germany).
Book: Evolution & Selflove – The Normativity Hypothesis of the Attachment Theory under Critical Consideration of Cultural and Evolutionary Perspectives.