You have an equine partner and you're looking for a peaceful relationship at eye level and healing together with your horse? No matter, where you live, we can work together through Skype or email. A video analysis is ideal for you, when you have the feeling your horse is not happy or shows a behaviour that frustrates or scares you and if you'd like to find out, if this behaviour is based on experiences your horse made or if there might be a theme that your horse mirrors you. Let's find out together, what's causing the situation and what your next step on your journey to Peaceful Togetherness could be.
We also warmly welcome people who own horses or other farm animals like goats, cows, pigs, or alpacas to our farm on a beautiful island close to Vancouver, BC in Canada. Experience Peaceful Togetherness with our animals and 'Be Herd'. Talk about everything that's on your mind and heart, so that you can create this gentle way of being together with your own animal at home. For everyone who loves but doesn't own horses we also offer mini horse and alpaca facilitated wellness sessions.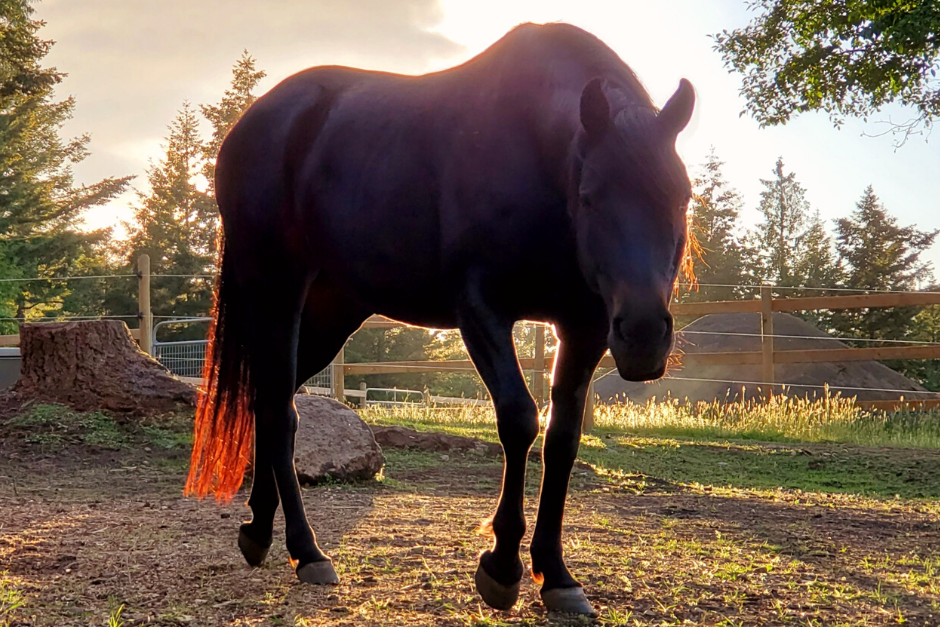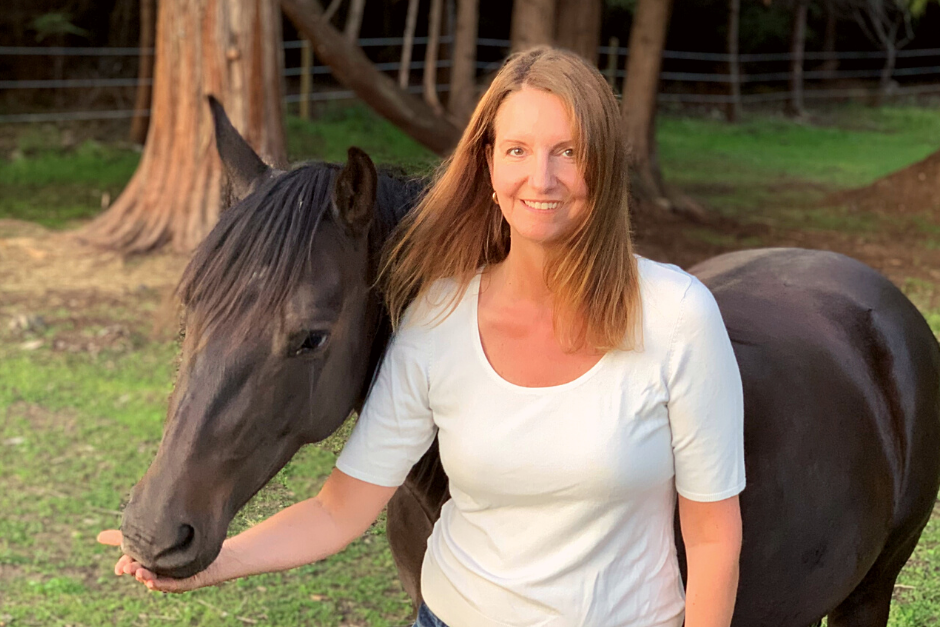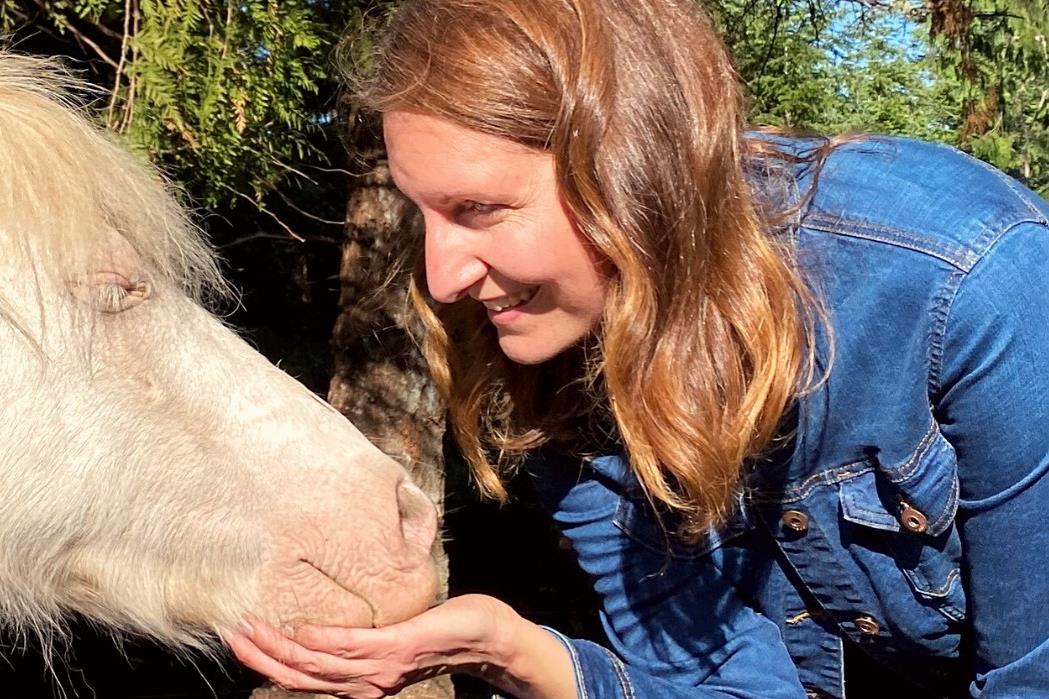 If you'd like to know if you horse's frustrating or scary behaviour is solely based on your horse's past experiences or if – maybe – this behaviour might have something to do with you, then a video analysis is perfect for you. Most of the time, we're not aware of our own thoughts and feelings, however, they are there and through them we often create situations or conflicts in our lives that are not beneficial for us and might affect our overall wellbeing. Our horse can help us to recognize these themes and eventually change them.
No matter how we're together with or train our horse, it will always read our body language and emotional state and its behaviour will be guided by it. But it is important to differentiate between behaviour that is caused by the horse's personality or what it has experienced in the past, and behaviour that is caused by our own inner attitude and thoughts, or by a certain form of training.
The horse reacts instinctively when being together with us, it recognizes our emotions and feels a certain energy, which it regards either as advantageous or threatening to its own wellbeing. And our horse always tries to connect and communicate with us to form a 'beneficial' relationship, to save energy or to simply survive.
With a video it is possible to analyze your horse's character and how previous experiences might have affected its behaviour. We can also find out what your horse is trying to communicate to you about the way you're together, be it in your body language or energy or regarding unfulfilled needs your horse may have itself. Above all, your horse will clearly mirror your main theme that has the strongest energetic effect in the "here and now". With that it is possible to find out – with the help of your horse – what your next steps in your journey, together and each for themselves could be.
We'll meet for 30-45 minutes in a safe online space and talk about your situation. On a shared screen we take a look at your video, analyse it together and I'll share with you what I see and what your next step could be. Of course you can ask all the questions you might have. It's only us two and everything will stay between us, so you can feel completely free and talk about what's on your mind and heart, maybe what's holding you back, what's a challenge for you, and what your dreams in the relationship with your horse are.
Alternatively, you can choose an email session and write or ask me everything you want (with or without a video). I'll take 30 Minutes to answer you and will also send you some questions for you to contemplate. Take your time, think about it and then send me another email with questions you have left. I will then take another 30 Minutes to respond to this email, so altogether 1 hour. I typically take 2-3 business days to get back to you. And that's the beauty of email therapy. It gives you plenty of time to think and feel!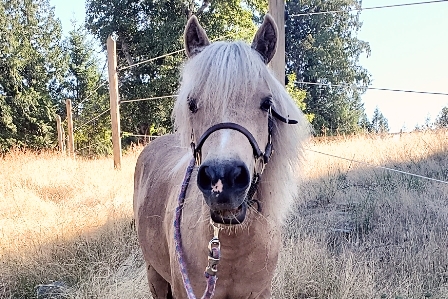 $100 CAD
For questions or to book a video analysis, please send me a message below. You can pay either by credit card, Paypal or (within Canada) e-transfer.
Please send me a video of up to 20 minutes of you and your horse. When you chose the Skype option, I'll contact you once I received the video and we'll set up a time when we can meet for our session. If you chose the email option (no video necessary, but recommended), you'll hear from me usually within 2-3 days.
How to film the video: Ask someone you feel comfortable with to film you and your horse for about 20 minutes. Start when you enter the paddock or stable, how your horse greets you and when you put the halter on. Then take your horse out to the arena and film short sequences of your usual training. Also, spend some time together in the arena with your horse at liberty, as its reactions are usually much clearer when it is free.
Also include a short sequence when you take your horse out for a walk (if possible). Please also include a couple minutes of when you groom your horse and also please ask it to lift its legs for you. Film your horse for a few minutes in movement and ideally how it is when it is in contact with another horse. Please film in landscape format and with the original sound. Then please send me the link to the recording, e.g. via WeTransfer or YouTube to my email britta@peopleandhorses.com.
CREATING HEART CONNECTIONS
How does being together with your horse feel right now, what's going well and what not so well? Is there a specific problem or question? Or would you just like to talk to someone who understands your different approach to being with horses and animals in general, who can help you to solve situations peacefully? Here you'll find a safe place to talk about all that.
We will be together with the horses and alpacas in nature and talk about everything that's on your mind and heart. We see, if there is a something else that comes up, maybe a specific situation with your animal that needs to be looked at. Maybe there is also an emotion, past experience, or a difficult situation from your daily life, that has nothing to do with your horse. Whatever comes up, we will allow it to be there, as everything in our lives has a meaning and wants to be seen.
The sessions are for people, who would like to improve the relationship with their horse and maybe with themselves. We'll meet on a beautiful island close to Vancouver. My horse, mini horses, alpacas, and I would like to welcome you to our farm, where we would like to invite you to naturally become you.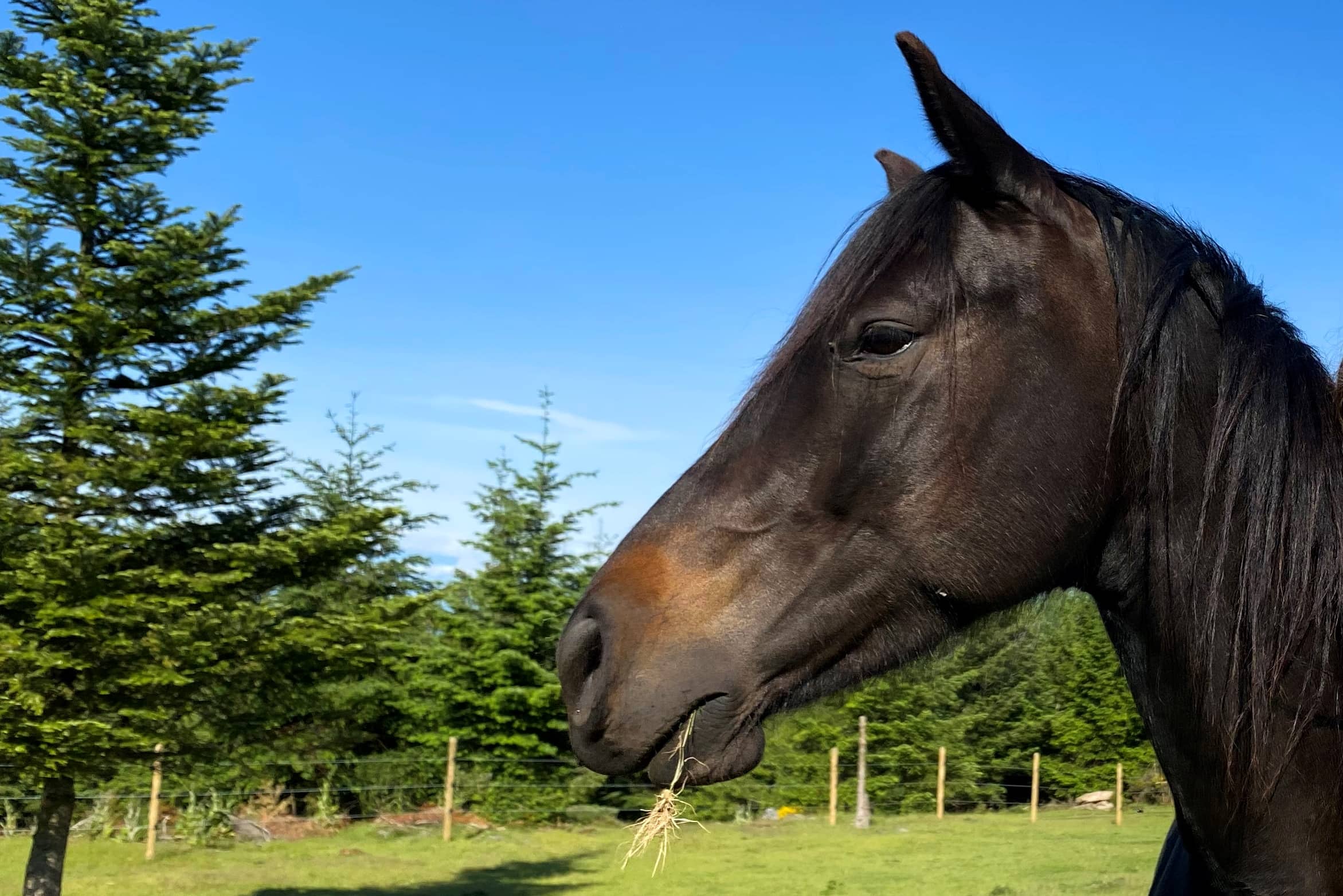 BE HERD
$100 CAD 
Sessions are about one hour. Please contact me for questions or to book a session below. I'm already looking forward to meeting you.
When our life daily life becomes a constant struggle and we cannot even figure out what's missing or what we should do, equine facilitated wellness sessions are a wonderful way to reconnect with our body, soul, and nature and to rewire our brain.
In a safe environment we will slow down and detangle our racing thoughts. We will be together with the animals in nature and see if something shows up that wants to be looked at. When emotions like fear, shame, or anger come up, we allow them to be there, because everything that's there and that's part of our lives has its meaning and wants to be acknowledged. The goal is not to 'let go' of fear, guilt, shame, or relationship patterns, but to find good ways to deal with – yes – to 'communicate' with them. We also learn how to set boundaries peacefully and what possibilities we have to move from overthinking to more calmness.
Come, talk, feel or just be, surrounded by nature and experience Peaceful Togetherness with alpacas, mini horses, and – most importantly – with yourself, here on our Serenity Hill Farm located on one of the Gulf Islands in BC, Canada. We'll find a way to restore your wellbeing and make your life more enjoyable again.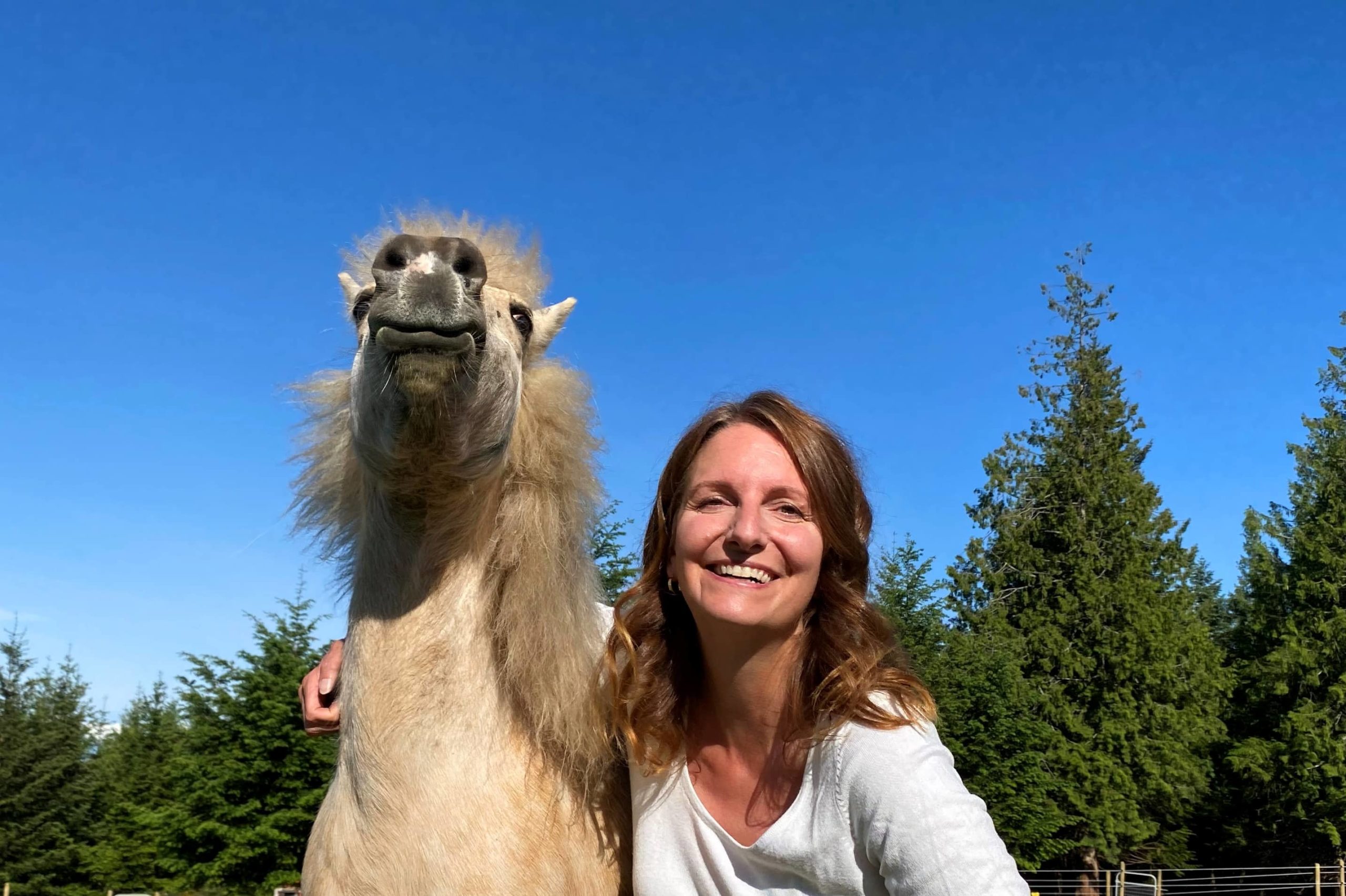 $100 CAD
Wellness sessions are about one hour. To learn more about it, please visit our website here. We're already looking forward to meeting you.