You have a horse and the training you do right now is not what your heart is telling you to do? You have the feeling your horse is not happy and you even noticed sorrow lines above the eyes? Or your horse shows a behaviour that frustrates or scares you and now you're wondering if there is something you can do? Wonderful. Then I'd like to invite you to a video analysis, where we can find out together, what's causing the situation and what your next step on your journey to Peaceful Togetherness could be.
We also warmly welcome people who own horses or other farm animals like goats, cows, pigs, or alpacas to our farm on a beautiful island close to Vancouver, BC in Canada. Experience Peaceful Togetherness with our animals and 'Be Herd'. Talk about everything that's on your mind and heart, so that you can create this gentle way of being together with your own animal at home. For people who don't own but love animals and would just like to connect with nature we offer our 'Mini Horse Visits'.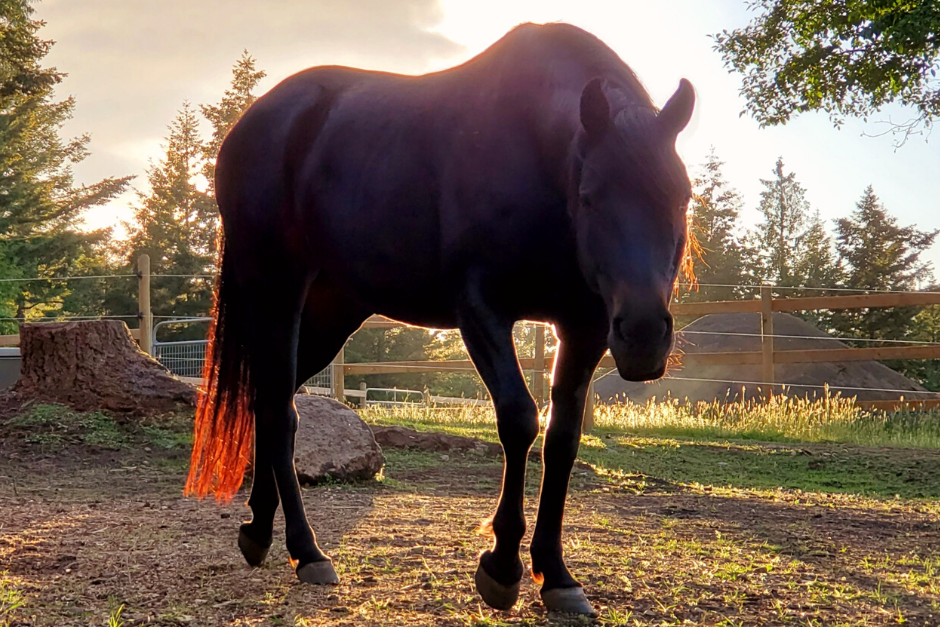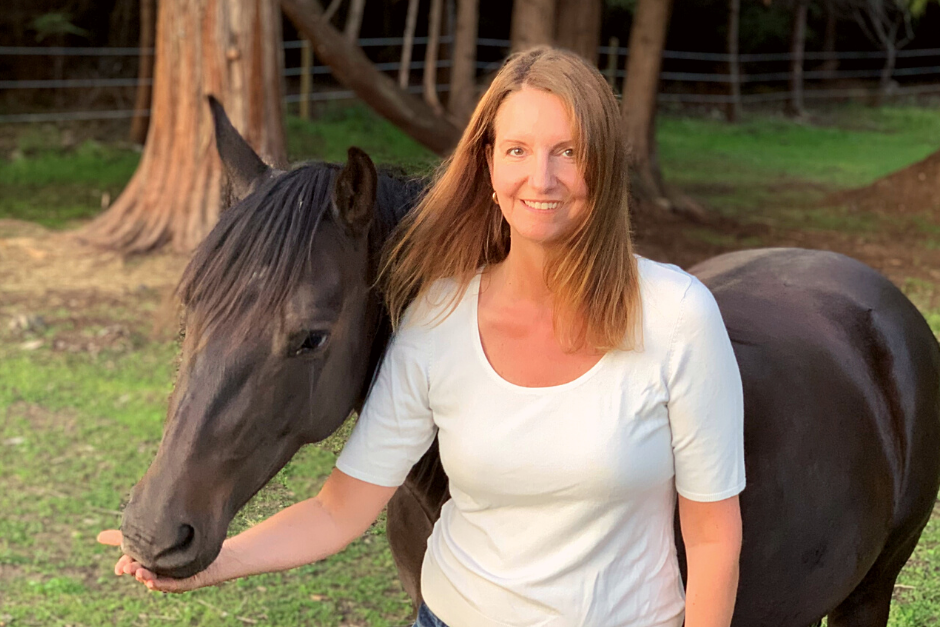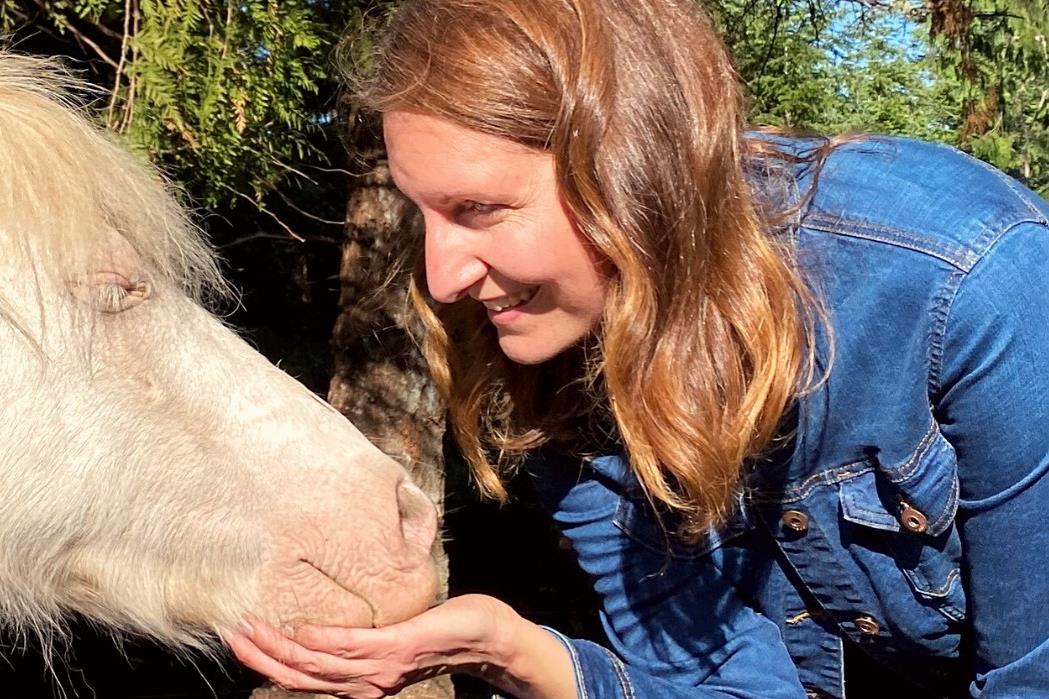 In a video analysis we will talk about your situation, how being together with your horse feels for you right now, what's going well and what not so well and if there is a specific problem or question. We will talk about your hopes, dreams, and values and what exactly you need in the relationship with your horse and maybe in your daily life.
We will also find out, how your horse feels about your relationship, which activities it enjoys, which it doesn't enjoy, and which ones are a real challenge. We will talk about what your horse needs to show less and less of the behaviour that frustrates or scares you and together we will create your next steps for your unique situation based on the character of your horse and based on your own hopes and values.
When you create a relationship with your horse that is based on your authentic believes, in which you and your horse are together as two beings at eye level, where both of you have all needs met before you even meet, where both of you can clearly set your boundaries and the other one accepts these, you don't need to fight, shut down or be scared anymore.
You will mean everything you do and communicate to your horse wholeheartedly and your horse will notice and understand that and will be able to enjoy your togetherness so much more. It will also be much more likely to follow your ideas and suggestions for activities, be it at liberty, mutual grooming or when going for walks, even in situations that might be uncomfortable like doing hooves or vet visits.
We will meet in a safe online space and will talk about your situation, on a shared screen we can take a look at your video, analyse it together and I will share with you what I see and what you can change and of course you can ask all the questions you might have. It's only us two and everything will stay between us, so you can feel completely free and talk about what's on your mind and heart, maybe what is holding you back, what's a challenge for you, and what your dreams in the relationship with your horse are.
Alternatively, you will receive a voice over recording, directly matched to your video with my comments where you can see exactly what I see in which situation, which will also help you to become more aware of yourself in certain situations. Additionally you will receive a written document with more detailed and inspiring info as well as ideas for your possible next steps to be able to transform your relationship. I would be very excited to accompany you and your horse to find clarity on your journey together.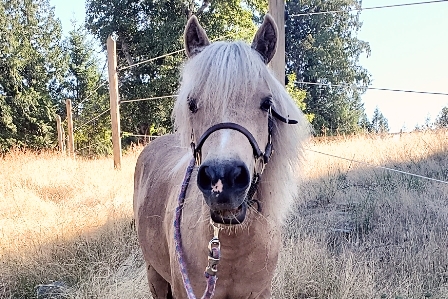 $115 USD · $ 150 CAD · 99 €
For questions or to book a video analysis, please send me a message below. You can pay either by credit card, Paypal or (within Canada) e-transfer.
Please send me a video of up to 20 minutes of you and your horse. When you chose the online option, I'll contact you once I received the video and we'll set up a time when we can meet for a 40 minute Skype session. If you chose the recording and pdf. option, you will receive it usually within three days.
How to film the video: Ask someone you feel comfortable with to film you and your horse for about 20 minutes. Start when you enter the paddock or stable, how your horse greets you and when you put the halter on. Then take your horse out to the arena and film short sequences of your usual training. Also, spend some time together in the arena with your horse at liberty, as its reactions are usually much clearer when it is free.
Also include a short sequence when you take your horse out for a walk (if possible). Please also include a couple minutes of when you groom your horse and also please ask it to lift its legs for you. Film your horse for a few minutes in movement and ideally how it is when it is in contact with another horse. Please film in landscape format and with the original sound. Then please send me the link to the recording, e.g. via WeTransfer or YouTube to my email britta@peopleandhorses.com.
CREATING HEART CONNECTIONS
How does being together with your horse feel right now, what's going well and what not so well? Is there a specific problem or question? Or would you just like to talk to someone who understands your different approach to being with horses and animals in general, who can help you to solve situations peacefully? Here you'll find a safe place to talk about all that.
We will be together with the horses and alpacas in nature and talk about everything that's on your mind and heart. We see, if there is a something else that comes up, maybe a specific situation with your animal that needs to be looked at. Maybe there is also an emotion, past experience, or a difficult situation from your daily life, that has nothing to do with your horse. Whatever comes up, we will allow it to be there, as everything in our lives has a meaning and wants to be seen.
The sessions are for people, who would like to improve the relationship with their horse and maybe with themselves. We'll meet on a beautiful island close to Vancouver. My horse, mini horses, alpacas, and I would like to welcome you to our farm, where we would like to invite you to naturally become you.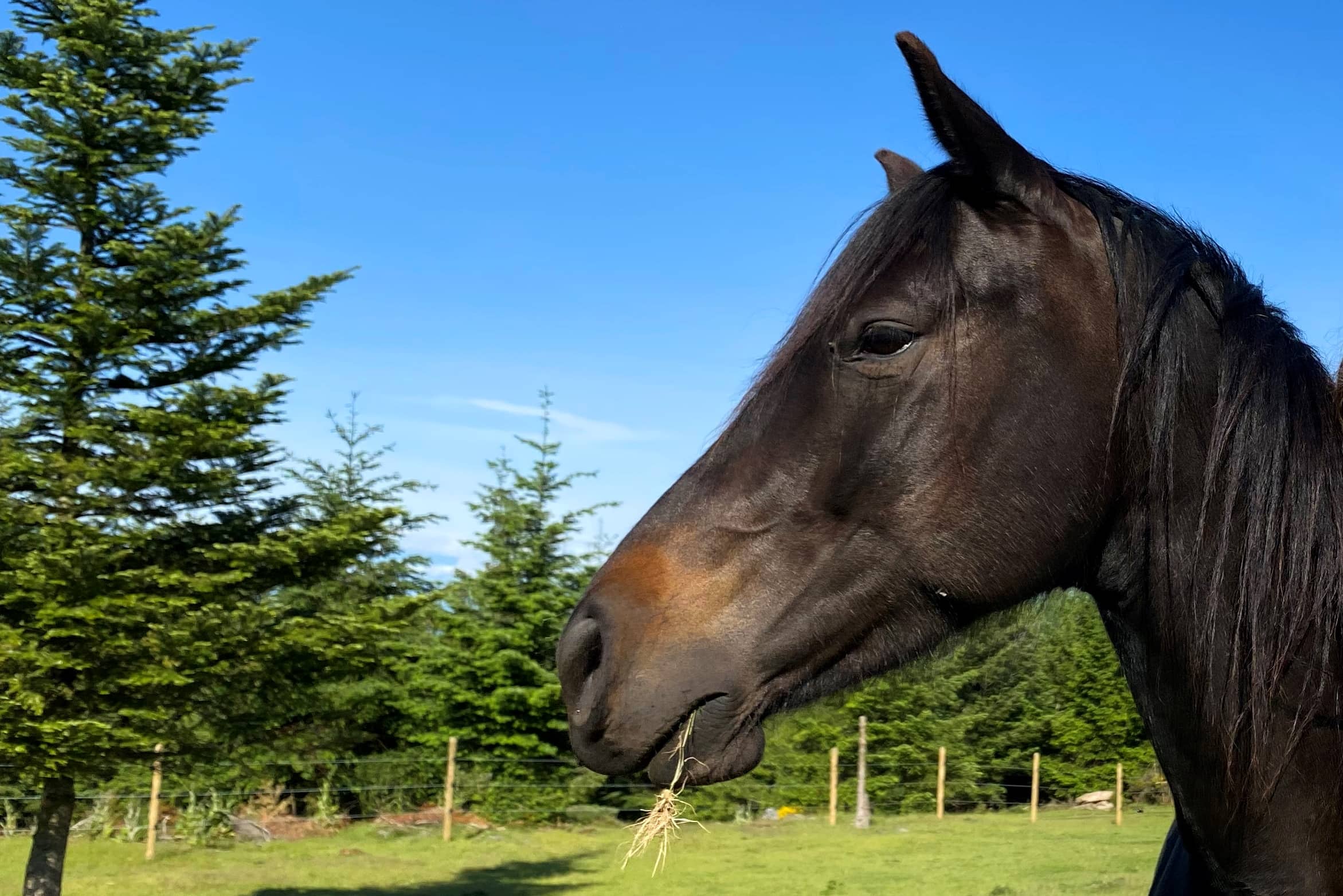 BE HERD
(Currently not available due to Covid-19) 
Sessions are one hour. Please contact me for questions or to book a session below. I'm already looking forward to meeting you.
VIVID MOMENTS FOR ANIMAL LOVERS
'These sessions are ideal if you or someone you care about is looking for some time in nature together with mini horses, to relax and enjoy and also if there is maybe something, you or they just want to share with the minis, no matter what it is, they will listen to everything what's on your mind, there will be no problem solving or 'learning', this is just about togetherness and being in the present moment. This is especially beneficial for e.g. the elderly or people with disabilities. My horse, minis, alpacas, and I are looking forward to meeting you.
If you live in BC, Canada our sessions and your Minihorse Visit may be covered in full or part by your health insurance or employee benefit plan. Please check with your insurance provider or employer in advance whether counselling services are covered. The following insurance companies and benefit providers in BC have agreed to reimburse my services for plans that include counselling services: SunLife, Pacific Blue Cross, Green Shield Canada, Manulife, and Claim Secure.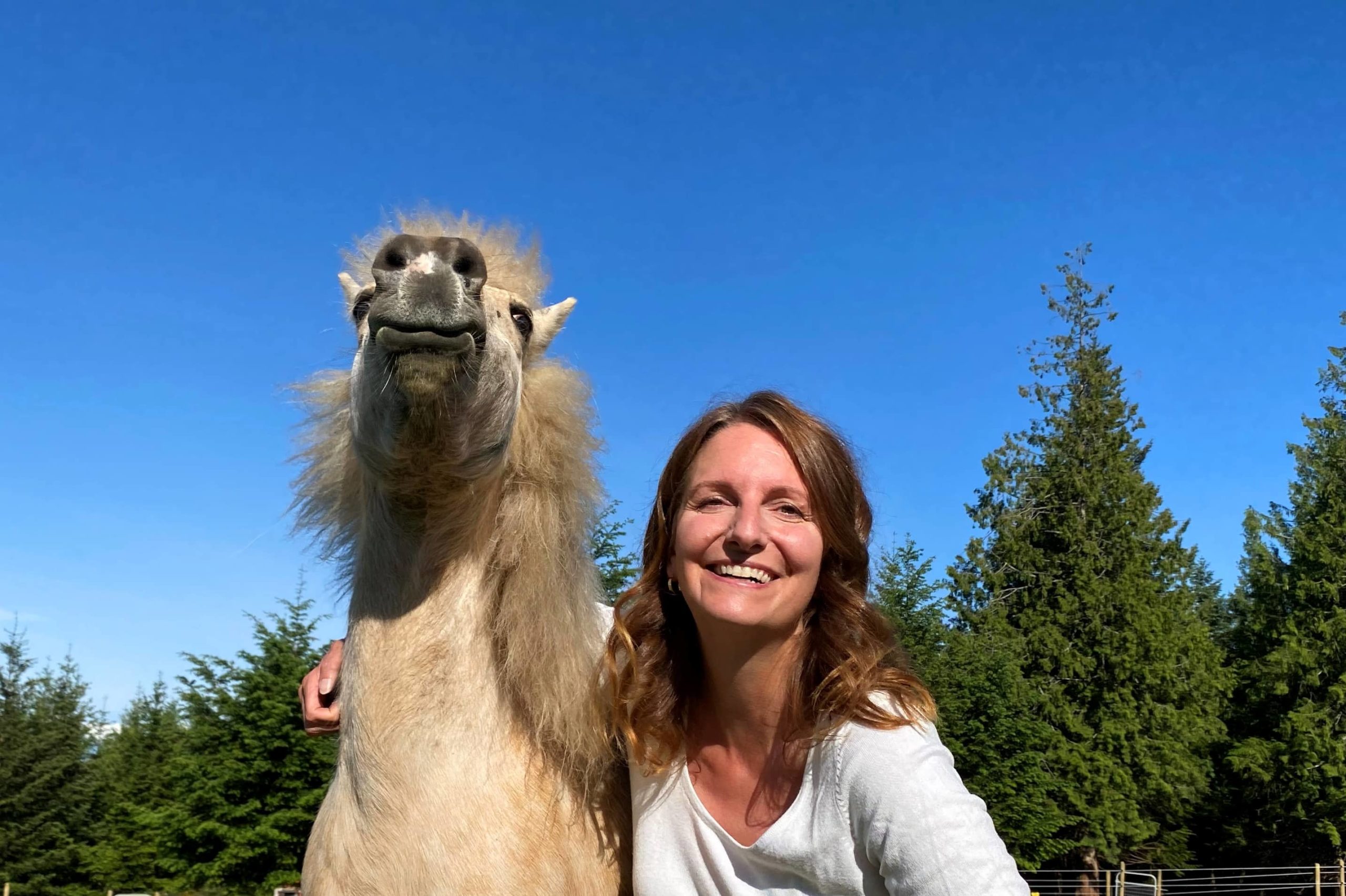 MINIHORSE VISITS
(Currently not available due to Covid-19) 
Minihorse Visits are between 45 and 60 minutes. For questions or to book, just send me a message. We're looking forward to meeting you.